Master Minimum Equipment List (MMEL)
The
Master Minimum Equipment List
(MMEL) is a document which lists the equipment that may temporarily be inoperative, subject to certain conditions, whilst maintaining an acceptable level of safety as intended in the applicable documents. Each MMEL document is specific to an aircraft type.
MMEL
analysis is required for all aircraft manufacturers to certify aircraft safety in different aviation authorities such as FAA, EASA etc.
RAM Commander integrated MMEL module supports Master Minimum Equipment List generation using Reliability, FMECA, FHA (Safety) and FTA modules results.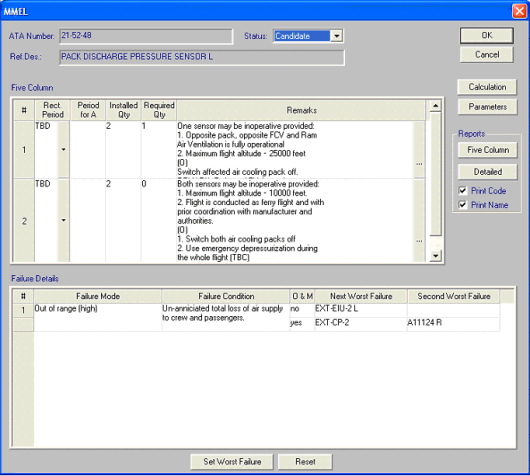 RAM Commander's MMEL module main features:
Compliance with MMEL requirements
Integration with aircraft Reliability and Safety analyses modules
Candidate Item selection
Calculation (s) of Expected Probability before and after failure
Automatic identification of the next (first in flight) and second worst failures
Reports generation:

Standard MMEL: "Five Column Format" - presents the standard MMEL report

Detailed Quantitative Analysis - presents results of analysis on which MMEL selection has been made

MMEL module provides several algorithms for MMEL candidate selection:
Algorithm based on JAA MMEL development guidelines
Algorithm implementing RRJ - 95/75 guidelines
User may select appropriate algorithm for system analysis.

Below is an example of standard MMEL 5-column report as generated by RAM Commander:



Functional Packages:
PREDICTOR

5 Standard Operating Reliability Prediction Methods
BOM Builder, Temperature Curves, Mission Profile, and Import Wizard
Full set of ready-to-print Reliability Reports
Enhanced Report Generator for user defined reports

RELIABILITY PRO

5 Standard Operating Reliability Prediction Methods
BOM Builder, Temperature Curves, Mission Profile, and Import Wizard
User Defined Components Reliability Data Module
Full set of ready-to-print Reliability Reports
Enhanced Report Generator for user defined reports
Components Library Module (over 400k components)
RBD - Reliability Block Diagram

MAINTAINABILITY PRO

Maintainability Module (according to MIL-STD-472 Procedure 5A)
Built in libraries for Tasks, Times, STE, Skills, and Materials
Maintenance Engineering Report (MEA Report)
Maintenance Task Analysis Report
Full set of ready-to-print Reliability Reports
ILS Supprt Fields (user defined)
BOM Builder, Temperature Curves, Mission Profile & Import Wizard
Enhanced Report Generator for user defined reports
RCM/MSG-3 Module
FMECA Module

FAILURE ANALYSIS & ISOLATION

BOM Builder, and Import Wizard
FMECA (covering both Hardware & Functional) Module
Customizable FMECA Worksheet
FTA Module
FMECA Import/Export
Testability Module
Full set of FMECA & FTA ready-to-print Reports
Full set of ready-to-print Testability Reports including graphical trouble shooting, fault isolation, etc.
FMD-97 Library
Enhanced Report Generator for user defined reports

SAFETY ASSESSMENT

SSA supporting IEC 61508 (Safety Standard for Safety Instrumented Systems) and MIL-STD-882D (SHA, O&SHA), SAE, ARP 4754A, and ARP4761
Customizable FMECA Worksheet
FTA Module
RBD Module
Markov Chains Module
FMECA Import/Export
Full set of ready-to-print Safety Reports
Enhanced Report Generator for user defined reports

AVIATION SAFETY

SSA & FHA according to SAE, ARP 4754A, ARP4761, and FAR 25 1309b
FTA including ready-to print reports
MSG-3 (System, Zonal, and Structural) including ready-to-print reports
MMEL including ready-to-print 5-column report
FMECA including ready-to-print FMECA reports, BOM Builder, and Import Wizard
Enhanced Report Generator for user defined reports
Report Template Utility for layout customization

See also:
RAM Commander
FMECA
Fault Tree Analysis
Safety Assessment