Download the latest version of RAM Commander V8.2 (November 2011)
RAM Commander provides full ILS (Integrated Logistics Support) and LSA (Logistics Support Analysis) support.
Numerous features and modules of RAM Commander are used for ILS and LSA: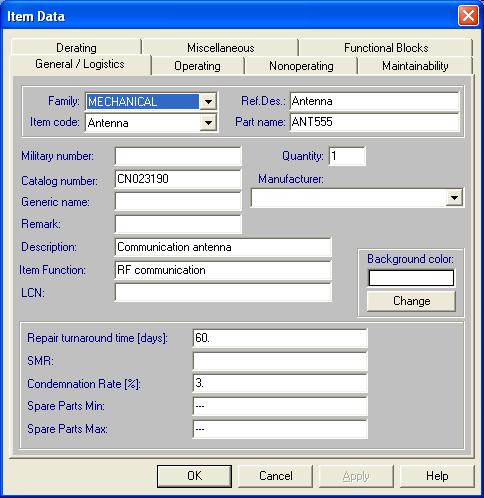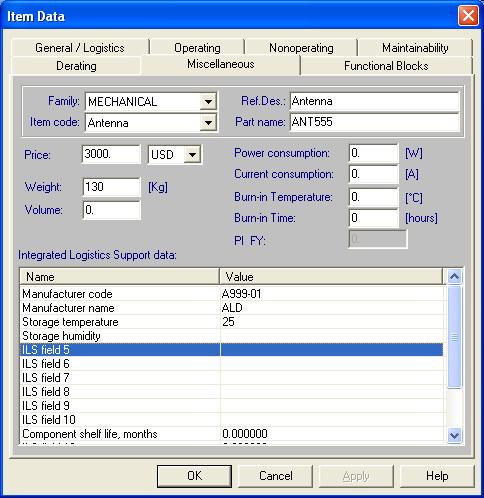 Maintainability Prediction and Analysis module provides one of the main outputs needed for ILS and LSA ? the MEA Report.

FMECA and Testability Analysis Module supply important inputs for ILS.

Spare Parts Optimization and Spares Quantity Estimator modules give answers to one of the most important tasks of ILS spare parts provisioning taking into account budget limitations, Turnaround Time, Condemnation Rate, Spare parts Max/Min.

RAM Commander allows interface with the LSA information of the customer?s ERP system and produces MAC (Maintenance Allocation Chart) and ICL (Integrated Configuration List).
Seamless connection with D-LCC achieves coverage of Life Cycle Costing.
RAM Commander encompasses and implements the unique knowledge gained by SoHaR ILS/LSA/LCC team - one of the world leaders in big scale ILS / LSA projects.



Functional Packages:
PREDICTOR
5 Standard Operating Reliability Prediction Methods
BOM Builder, Temperature Curves, Mission Profile, and Import Wizard
Full set of ready-to-print Reliability Reports
Enhanced Report Generator for user defined reports
RELIABILITY PRO
5 Standard Operating Reliability Prediction Methods
BOM Builder, Temperature Curves, Mission Profile, and Import Wizard
User Defined Components Reliability Data Module
Full set of ready-to-print Reliability Reports
Enhanced Report Generator for user defined reports
Components Library Module (over 400k components)
RBD - Reliability Block Diagram
MAINTAINABILITY PRO
Maintainability Module (according to MIL-STD-472 Procedure 5A)
Built in libraries for Tasks, Times, STE, Skills, and Materials
Maintenance Engineering Report (MEA Report)
Maintenance Task Analysis Report
Full set of ready-to-print Reliability Reports
ILS Supprt Fields (user defined)
BOM Builder, Temperature Curves, Mission Profile & Import Wizard
Enhanced Report Generator for user defined reports
RCM/MSG-3 Module
FMECA Module
FAILURE ANALYSIS & ISOLATION
BOM Builder, and Import Wizard
FMECA (covering both Hardware & Functional) Module
Customizable FMECA Worksheet
FTA Module
FMECA Import/Export
Testability Module
Full set of FMECA & FTA ready-to-print Reports
Full set of ready-to-print Testability Reports including graphical trouble shooting, fault isolation, etc.
FMD-97 Library
Enhanced Report Generator for user defined reports
SAFETY ASSESSMENT
SSA supporting IEC 61508 (Safety Standard for Safety Instrumented Systems) and MIL-STD-882D (SHA, O&SHA), SAE, ARP 4754A, and ARP4761
Customizable FMECA Worksheet
FTA Module
RBD Module
Markov Chains Module
FMECA Import/Export
Full set of ready-to-print Safety Reports
Enhanced Report Generator for user defined reports
AVIATION SAFETY
SSA & FHA according to SAE, ARP 4754A, ARP4761, and FAR 25 1309b
FTA including ready-to print reports
MSG-3 (System, Zonal, and Structural) including ready-to-print reports
MMEL including ready-to-print 5-column report
FMECA including ready-to-print FMECA reports, BOM Builder, and Import Wizard
Enhanced Report Generator for user defined reports
Report Template Utility for layout customization
Download the latest version of RAM Commander V8.2 (November 2011)
See also:
RAM Commander homepage
SoHaR Reliability and Safety Software Overview
Reliability&Safety Software Download
See SoHaR Reliability, Safety and Quality Services if you wish us to perform reliability prediction, analysis or other activities for you