Download the latest version of RAM Commander V8.2 (November 2011)

Event Trees are one of the most widely used methods in system risk analysis. It is an inductive failure analysis performed to determine the consequences of single failure for the overall system risk or reliability. Event Tree Analysis uses similar logic and mathematics as Fault Tree Analysis, but the approach is different - FTA uses deductive approach (from system failure to it's reasons) and ETA uses the inductive approach (from basic failure to it's consequences).

An event tree itself is a visual representation of single failure sequences, it's influence on other events and on the whole system.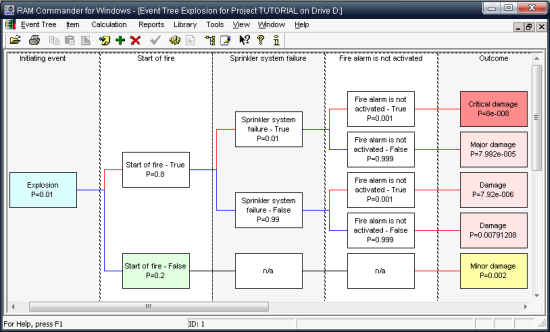 Main window of the RAM Commander Event Tree Analysis Module

ETA Module Features
User-friendly and convenient tree building interface (zoom, export to clipboard as metafile, print, etc.)
Customizable graphical representation (diagram elements colors, styles etc.)
Events Library
Event Probability assessment models:
user-defined
O calculated (repairable/unrepairable/constant mission time/periodical tests)
O linked to product tree element
O linked to FMECA Failure Mode, NHE or End Effect
O linked to Fault Tree basic event
O linked to Fault Tree gate or tree top event
Different Event logic types:
O Binary logic
- True/False
- Success/Failure
O Multiple alternatives (for events where not only True/False or Success/Failure outcomes are considered)
Different Event probability types
O Equal event probabilities in all sequences
O Different event probabilities in different sequences (conditional probabilities)


Functional Packages:
PREDICTOR
5 Standard Operating Reliability Prediction Methods
BOM Builder, Temperature Curves, Mission Profile, and Import Wizard
Full set of ready-to-print Reliability Reports
Enhanced Report Generator for user defined reports
RELIABILITY PRO
5 Standard Operating Reliability Prediction Methods
BOM Builder, Temperature Curves, Mission Profile, and Import Wizard
User Defined Components Reliability Data Module
Full set of ready-to-print Reliability Reports
Enhanced Report Generator for user defined reports
Components Library Module (over 400k components)
RBD - Reliability Block Diagram
MAINTAINABILITY PRO
Maintainability Module (according to MIL-STD-472 Procedure 5A)
Built in libraries for Tasks, Times, STE, Skills, and Materials
Maintenance Engineering Report (MEA Report)
Maintenance Task Analysis Report
Full set of ready-to-print Reliability Reports
ILS Supprt Fields (user defined)
BOM Builder, Temperature Curves, Mission Profile & Import Wizard
Enhanced Report Generator for user defined reports
RCM/MSG-3 Module
FMECA Module
FAILURE ANALYSIS & ISOLATION
BOM Builder, and Import Wizard
FMECA (covering both Hardware & Functional) Module
Customizable FMECA Worksheet
FTA Module
FMECA Import/Export
Testability Module
Full set of FMECA & FTA ready-to-print Reports
Full set of ready-to-print Testability Reports including graphical trouble shooting, fault isolation, etc.
FMD-97 Library
Enhanced Report Generator for user defined reports
SAFETY ASSESSMENT
SSA supporting IEC 61508 (Safety Standard for Safety Instrumented Systems) and MIL-STD-882D (SHA, O&SHA), SAE, ARP 4754A, and ARP4761
Customizable FMECA Worksheet
FTA Module
RBD Module
Markov Chains Module
FMECA Import/Export
Full set of ready-to-print Safety Reports
Enhanced Report Generator for user defined reports
AVIATION SAFETY
SSA & FHA according to SAE, ARP 4754A, ARP4761, and FAR 25 1309b
FTA including ready-to print reports
MSG-3 (System, Zonal, and Structural) including ready-to-print reports
MMEL including ready-to-print 5-column report
FMECA including ready-to-print FMECA reports, BOM Builder, and Import Wizard
Enhanced Report Generator for user defined reports
Report Template Utility for layout customization
Download the latest version of RAM Commander V8.2 (November 2011)

See also:
RAM Commander homepage
Fault Tree Analysis Software Module
SoHaR Reliability and Safety Software Overview
Reliability&Safety Software Download
See SoHaR Reliability, Safety and Quality Services if you wish us to perform reliability prediction, analysis or other activities for you